In this post, I'm going to share with you the details of my master bathroom vanity with makeup area design and some ideas of how you can design the perfect master bathroom.
For me, a master bathroom vanity with makeup area was #1 on my list!
Master Bathroom Design
First, before you read this, you should jot down 3 things that are most important to you in a master bath. Also, ask yourself, what is your favorite feature in your current bathroom and what is one thing you would change?
I'll quickly share with you my answers to both those questions but keep in mind, the three things that are most important to me are not the most important to my husband so this is a joint list of our three most important things:
Separate toilet room (ie water closet)
Fancy faucets in the shower
Large sized shower
Now, really quick, since I spend a lot more time in the bathroom, a few additional things that were important to me:
Make up vanity! I have always dreamt about having one of these
Lots of storage – practical and functional
Gorgeous finishes
My favorite thing about my prior bathroom was a large vanity with double sinks and my least favorite thing about my prior bathroom was that the shower was too small.
Master Bathroom Inspiration
As I begin thinking about designing any space, I go to Pinterest. I create a board and start searching for ideas!
See my board here.
This board is full of lots of design, décor, style & organization tips!
Master bathroom Budget
Setting a budget is an important first step when planning a master bathroom – even if there is no budget, you admit that is the case. But if you are like me and most others, you do need a budget. Bathrooms can be expensive but there are also ways to save money along the way too.
Master Bathroom FloorPlan
Your first step will be to decide on a floor plan. We actually changed ours part of the way through the build process. A wall and a door had to be relocated! Here you can see the double sink vanity with makeup area on the floorplan where is says K.S.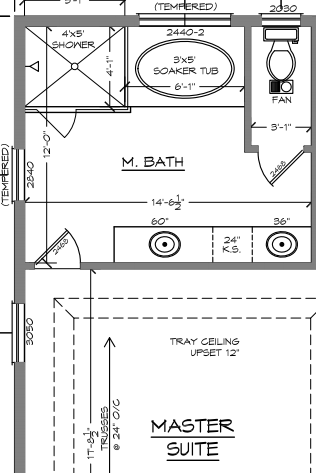 Related: Master Bedroom Design
Master bathroom Vanity with makeup area
As I mentioned before, the double sink vanity with makeup area was one of the most important items on my list! I was all about the makeup vanity!
Ours was custom designed with the help of our bathroom cabinet company, but when it came time to design it, I was surprised that I could find very little guidance out there on bathroom vanities with makeup areas!
I didn't realize it at the time but they were just at the beginning of their trend.
Related: Custom Soap Bottles
Ready to Order bathroom vanities with makeup areas:
Disclosure: This post contains affiliate links. If you click through a link and make a purchase, it will earn me a small commission, at no additional cost to you! See our disclaimer for details.
I had questions like, should it be lower than the rest of the counter? If yes, what height should the counter top be?
Ultimately, I took a chair into my current bathroom vanity and measured the height of a normal stool and made sure that there would be ample room for my legs, also ensuring to account for the drawer underneath the countertop.
Double Sink Vanity With makeup Area
Double Bathroom Vanity Set Features:
102″ long
Marble countertop
Floating makeup area with built in drawer
Sinks included
Soft close cabinets and drawers
Also comes in white!
Built In Bathroom Makeup Vanity
Rolla Double Bathroom Vanity Set Features:
72″ Long
Available is 7 total colors!
All wood, no MDF
Authentic marble imported from Italy
Includes sinks & cabinet hardware
Master Bathroom With Makeup Vanity
Copper Cove Encore Vanity Set Features:
90″ Long
Towel bars on both sides
Includes sinks & cabinet hardware
Bathroom Makeup Vanity Ideas
Here is what we used for our custom master bathroom vanity with makeup area to give you some ideas!
Master Bathroom Countertops
We actually found our piece of quartz at a distributor who had lots of remnants. Remnant means that someone bought the slab but had some leftover and you can buy the leftover piece at a discounted price. We did this for all our bathrooms which saved us a lot of money! We did decide to do the backsplash.
Source: Qua Quartz Carrara Lazza
Below is a nice view of our white quartz countertops.
master bathroom Cabinetry
Our cabinets are by Kraftmaid. The door style is shaker in Dove White,
The cabinet dimensions of bathroom vanity with makeup table are below:
Vanity Combination Drawer – Left – VCD362134 DL3 – 15-21 – 36″ Wide, 34 1/2″ high, 21″ Deep
Vanity Combination Drawer – Right – VSD362134 DR3 221-15 – 36″ Wide, 34 1/2″ high, 21″ Deep
Vanity Knee Drawer – Middle – VKD2421 – 24″ wide, 21″ deep
Vanity Utility Extended Top with Shelves – VU362184 – BUTT.ET.SH – 36″ Wide, 84″ high, 21″ Deep
Here is a drawing of our master bathroom with makeup vanity layout: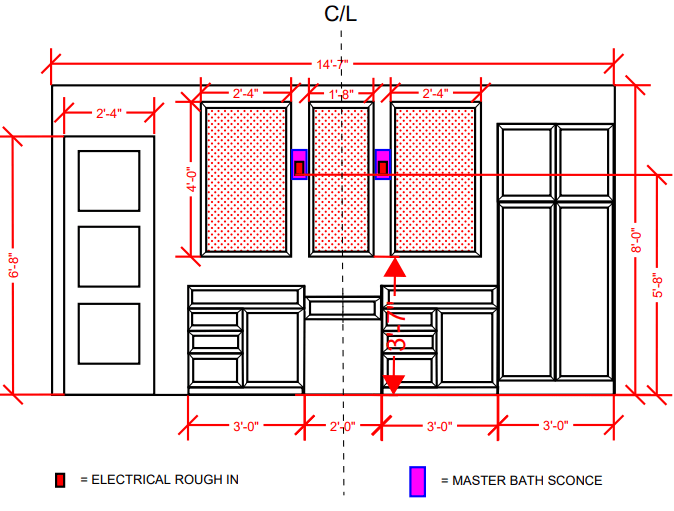 Makeup area drawer organization is key!
Shop my favorite bathroom drawer organizers:

Related: Kitchen Organization Tips
master bathroom Cabinet hardware
It is OK to mix metals between your fixtures and hardware. We didn't for our bathroom but I have seen tons of other bathrooms that I love that do this!
Put them all together to make sure you like them.
We have all polished chrome!

master bathroom Mirrors
Truth be told the first few months of living in our home, we were using our arched guest bathroom mirror.
I was inspired by a similar master bathroom floorplan I saw on Pinterest and searched for similar mirror options at all different places. After scouring the internet, I wasn't able to find something tall enough so I ended up getting a custom set of mirrors. I got 3 custom sized mirrors from delta glass.
Then I went with this super easy mirror transformation option from Mirror Mate. I ordered 4 different sample options. I absolutely love the gray silver color that I went with called Highline Slim Silver Patina Frame. Perfect compliment to the Carrara Lazza quartz.
Master Bathroom Faucets
We went with a modern polished chrome. They of course were Pinterest inspired and are really pretty in person.
Master Bathroom Lighting
Pick lighting that will be bright and complimentary to your space. We planned to do sconces from the start. They were prewired which made installation very easy!
Master Bathroom Make Up Vanity Stool
A vanity stool is the perfect finishing touch to your master vanity with makeup area. It can add character, depth and even a fun pop of color!
Shop my make up vanity stool
Shop my other favorite make up vanity stools:

Master bathroom Paint color
Definitely test paints on the walls to see how they look in your space. We have Modern Gray Super Paint by Sherwin Williams. See all the wall colors in my home here.
Frequently Asked Questions
What is makeup area in bathroom called?
There is not necessarily a right or wrong term here. I've heard it called a makeup area, makeup vanity and even makeup station.
How deep is a bathroom makeup area?
It should be the same depth as your bathroom vanity.
What is the average height of a makeup vanity?
In our bathroom, the makeup counter is two inches lower than the rest of the vanity height. The opening from the floor to the bottom of the makeup vanity drawer is 27 3/4″. This is a comfortable height for sit-down makeup vanities
Where can I find a bathroom makeup vanity?
I've rounded up some great pre-fabricated makeup vanity options below if you are not looking to go the custom built in makeup vanity route.
Shop all my favorite Double Vanities with Makeup Station

You can also check out this video of my bathroom makeup vanity!
pin this
Up Next:
I HOPE that learning a bit more about our master bathroom vanity with makeup area was helpful! Feel Free to email me with any questions!