Here's another trending kitchen drawer organizer for you! This foil dispenser for drawer organizer is exactly what we needed in our kitchen!
I'm sharing all the details on our new aluminum foil drawer organizer.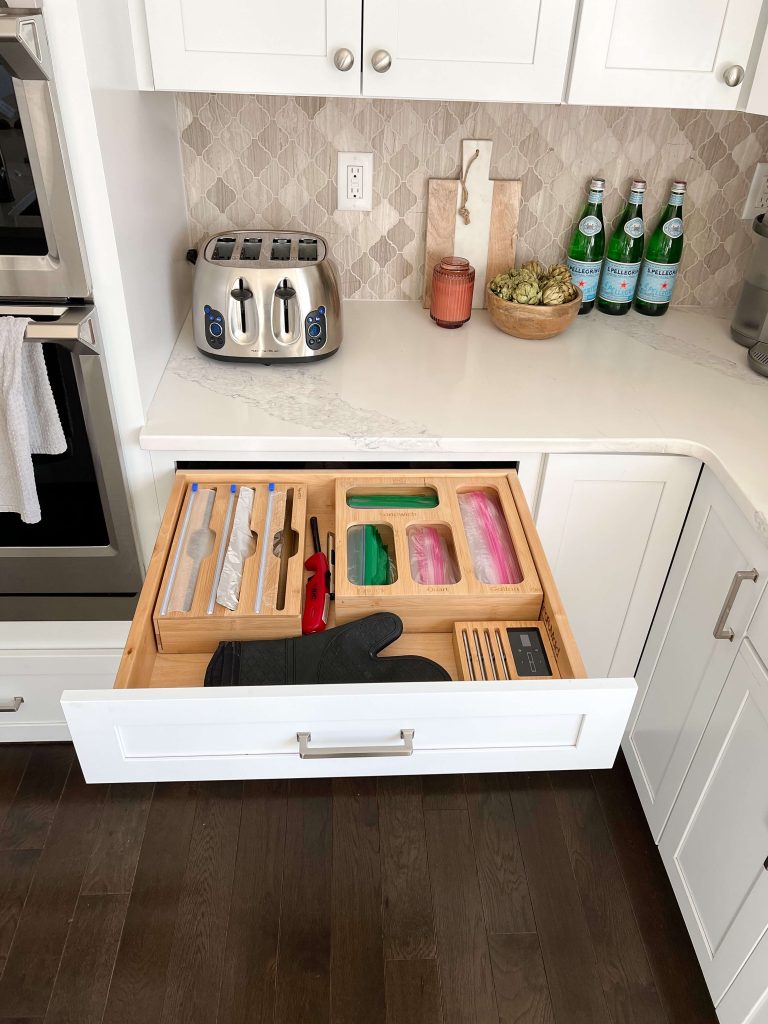 Plus, lots of other options that may work in your kitchen!
Disclosure: This post contains affiliate links. If you click through a link and make a purchase, it will earn me a small commission, at no additional cost to you! See our disclaimer for details.
I'm totally obsessed with having a beautifully organized kitchen.
Related: Spice Drawer Organization
Best Foil Dispenser for Drawer
So what prompted me to go by a foil and saran wrap dispenser?
First, I added the bamboo Ziploc drawer organizer and was in LOVE!
Immediately, I had to find a matching bamboo foil drawer organizer to go with it.
I searched on Amazon which is where we got the Ziploc bag organizer as well.
There were lots of different options and sizes in natural bamboo. Yay!!
Ultimately, I got this foil dispenser with cutter for 3 reasons:
Shipped quickly (I got mine in two days!)
It had 3 separate dispensers
Perfect fit for my drawer space
The dimensions of my kitchen foil organizer are 13″ × 8.3″ × 2.7″
Note: Not compatible with rolls that are longer than 12″
Parchment paper for example is generally longer than 12″ but I don't use that very often and the box was so big that I had always stored that with my baking supplies vs in my kitchen drawer.
Wondering what the Meater in our newly organized drawer is?
These are meat probs for cooking meat.
Also compatible on your phone.
My husband LOVES these and I highly recommend for a gift idea.
Related: Kitchen Pendant Lighting
My Foil Dispenser for Drawer Review
Would I recommend this foil drawer organizer to a friend? Absolutely!
Before, the boxes were so messy in the drawer and there was really no great way to keep them in place without a drawer organization solution.
I was a little worried that the built-in slide cutters would not work well but they work GREAT!
Side note: I did order two similar drawer organizers as well.
The cutter function on the first one I got did NOT work.
The other one only had 2 dispensers and I really wanted 3 but otherwise I liked that one and linked it below.
You might be wondering, how to load and refill this foil dispenser. It is actually very easy!
The bottom of the box easily slides out so you can slide them right in at the bottom.
Another reason why I recommend this foil wax organizer is that it can be hung up on the wall!
Let's say you have a large pantry storage area vs a drawer space – I think this bamboo kitchen organizer would look great on the wall and be totally functional!
Bonus: All my guests are also really impressed with this newly organized drawer – even my 6 year old said wow Mom I like that!
Now you can tell from my photos that I actually didn't use the labels that this drawer organizer comes with.
I do like the labels but they didn't match my ziploc bamboo organizer and since you can see which one is which from the top, I didn't think it was necessary personally.
Finally, it comes with anti-skid pads so it will stay in place and not slide around.
I did end up using the anti-skid pads and they came in super handy!
Related: Tons of other Kitchen Organization Tips
Other Kitchen Wrap Organizer Options
Not all kitchens are created equally so here are lots of other options that I found for you to consider!

What Is The Foil Dispenser Made Of?
Made of natural renewable bamboo, the surface is sealed with paint, finely polished by hand, and sturdy / strong.
What Brands Is The Foil Organizer Compatible With?
It's compatible with most brands. I'm actually using store brands in mine. The manufacturer recommends – Wrap, Glad Plastic Wrap, Saran Wrap, Cut-Rite, for Plastic Wrap, Aluminum Foil and Wax Paper to name a select few.
How To Clean Bamboo Drawer Organizers?
I have generally always cleaned my bamboo drawer organizers with warm water. You can also use some very light soap if needed but you'll want to be sure you thoroughly wipe it off with water.
You do want to ensure that you dry it thoroughly too. Too much moisture can cause wood rot and create bacteria.
Other Bamboo Drawer Organizer You May Like

Be Sure To Check Out My Other Kitchen Organization Ideas!
FREE Spice Drawer Organizer Building Plans
Check Out My Foil Dispenser For Drawer Video
Pin This Idea / Share With a Friend!
Up next:
How to warm up & decorate a White Kitchen
How to create a minimalist family home
Love Sharing Kitchen Organization Hacks with You all! This New Foil Dispenser for Drawer was the perfect new Year organization project!