Check out all these gorgeous coffered ceiling ideas for your living room, kitchen, foyer/entryway, bedroom or office.
Coffered Ceiling Ideas
Aren't coffered ceilings so timelines and gorgeous?
They are classy and somehow don't go out of style.
When building our home, we added a tray ceiling to our dining room so that we could add our DIY coffered ceiling in later.
My husband is very handy so we figured we'd pay for the tray ceiling so that we could easily add a DIY coffered ceiling after we moved in.
I remember when we started on our coffered ceiling project we were looking online to see how others did theirs.
I was surprised that there were not a ton of ideas, pictures and tutorials online.
Dining Room Coffered Ceiling
We had always dreamed of a pretty coffered ceiling to dress up our formal dining room.
Our dining room is the next room you enter after stepping into our two story open foyer.
I love the dimension that our DIY coffered ceiling adds to the room!
We chose to go with a very classic and traditional design to go with the vibe in our home.
Paint color: Bright White by Sherwin Williams.
Check out our finished coffered ceiling project.
This coffered ceiling was an upgrade for Laura's home when she built in 2016.
They chose to do it because of the drastic difference it made in the elegance, formality and overall aesethic in the room.
When building, she chose to splurge on upgrades that they knew they would not be able to handle themselves one day and the coffered ceiling was one of them!
Paint color: Shoji White by Sherwin Williams.
Obsessed with this gorgeous dining room design by one of my favorite interior designers Lindye.
I love how she incorporates the lighting into the ceiling coffers.
Glam dining room right here with a coffered ceiling and board and batten combo.
I love the double chandeliers and I recognize that dining room table which is a classic farmhouse table!
Rich dimension and texture on this coffered ceiling molding.
I'm obsessed with that lighting too!
Coffered Ceiling In Living Room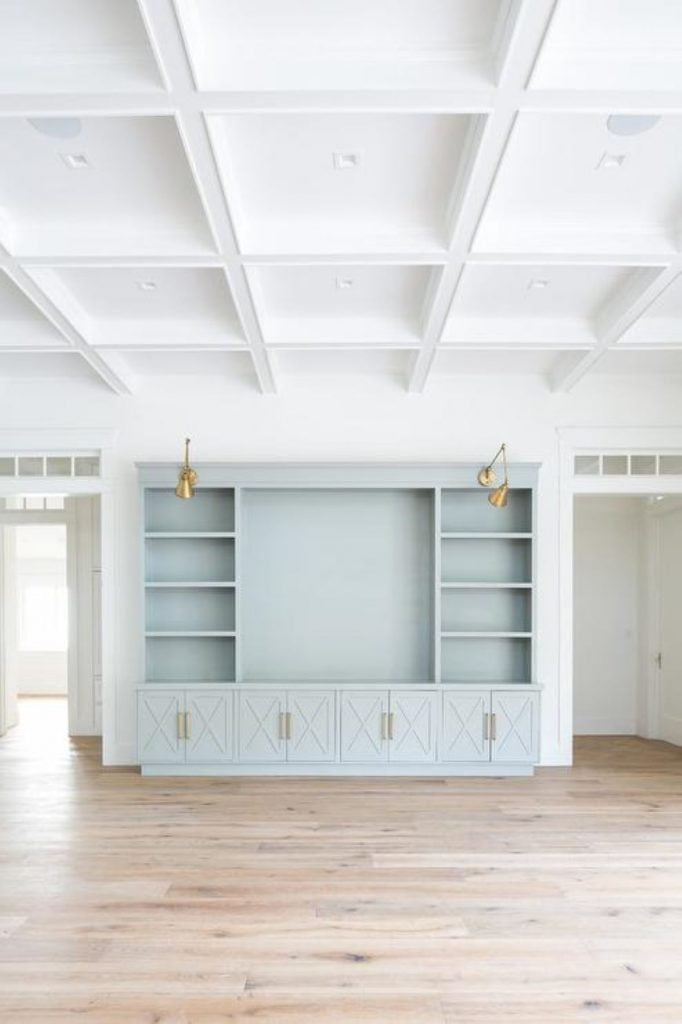 Love this dreamy living room design with the coffered ceilings and built ins!
It's makes this living room seem much taller and larger.
Breathtaking family room design with a classic coffered ceiling.
This coffered ceiling design reminds me of my own.
Very classic and traditional.
Kate's new build is stunning.
I absolutely love her family room coffered ceiling.
What a beautiful & unique way to create a coffered ceiling with wood beams!
Love the look of this modern wood beam coffered ceiling.
Kitchens With Coffered Ceilings
I'm obsessed with this kitchen design!
This kitchen coffered ceiling makes a big statement.
Here is another amazing kitchen coffered ceiling with a shiplap ceiling combo.
So much beauty and character!
Love this modern coffered ceiling kitchen design with natural wood coffers.
Mix it up and do something different!
Here is a stunning kitchen coffered ceiling design with pecky cypress wood coffers.
I'm loving the dimension this ceiling gives to this eat in kitchen.
Loving everything about this kitchen design and this unique coffered ceiling with shiplap.
The lighting design is also perfect in this space!
Coffered Ceiling In Entryway
Add a coffered ceiling to your hallway or foyer – brilliant!
I love the dual tone paint with the blue coffers and white trim molding.
Here's an absolutely gorgeous coffered ceiling entryway idea.
I love how it levels up this open concept floor plan.
Swooning over this entryway with deep coffers!
Gorgeous ceiling crown molding detail.
Bold, big and beautiful.
This entryway combo of plank wood coffers with white coffered beams makes this entryway totally pop!
Gorgeous stained coffered ceiling entryway glow up.
So classic and the shiplap design compliments this entryway beautifully.
Bedroom Coffered Ceiling
I never thought about board and batten in a bedroom but I love the concept.
Loving the extra height it gives to this bedroom and that moody blue paint color is gorgeous!
I personally love to have ceiling fans in all of our bedrooms.
It's a must have even though I also love beautiful statement lighting.
That's why I'm loving this coffered ceiling bedroom design with a ceiling fan!
Totally magazine worthy bedroom am I right?
Loving the character and depth this coffered ceiling brings to this bedroom.
This extra tall bedroom ceiling looks even more grand which this beautiful coffered ceiling!
I love how they designed the coffered ceiling lighting to include can lighting as well as a statement chandelier.
Related: Our Master Bedroom
Coffered Ceiling In Office
Tons of people I know are using their dining room as a home office space.
This low profile coffered ceiling with shiplap is so dreamy, isn't it?
Home office goals with moody blue built ins and a beautifully designed coffered ceiling.
This coffered ceiling is a little more modern in design with very clean & sleek lines.
Last but not least is this stunning home office design.
The coffered ceiling molding along with the built ins give this office so much character!
Coffered Ceiling History
From Laura at Laura Ballard Designs: "Coffered ceilings are rooted deep in history and their original purpose was functional, but in more modern times people started doing them as an architectural feature vs out of necessity. Coffered ceilings have the ability to truly uplevel a room."
Check out this article for more on the history.
I hope these cofferd Ceiling Ideas inspire you for your own home design!