Looking for an easy coat closet makeover that won't break the bank?
You'll love these budget friendly closet organization ideas!
Everyone has that one closet in their home where they "stuff" things.
It's almost like a junk drawer but instead it's a junk closet!
Related: Minimalistic Home
For us, ever since we moved into our new home, our foyer coat closet was our junk closet.
Our home has everything you would want in a foyer.
Open concept two story foyer
Double front doors with all windows (we live in a private lot)
Grand staircase
A simple, small coat closet
But the coat closet had zero coats in it and was completely unusable after living in our home for 3 years!
Coat Closet Makeover
Disclosure: This post contains affiliate links. If you click through a link and make a purchase, it will earn me a small commission, at no additional cost to you! See our disclaimer for details.
Then for my daughter's 6th birthday party in January, we were having an at home party.
Only problem was that they were calling for a high of 26 degrees Fahrenheit.
But where would I keep the coats for all of my guests?!
That's when I finally decided that it was time for a makeover!
Our entryway is on the smaller size measuring 3′ 7″ by 9′ tall.
Small Coat Closet Makeover
Like any good organization project should begin, I started by clearing out this coat closet.
I separated everything into the following categories:
Items to go back into the newly organized coat closet
Things to get rid of
Items to relocate elsewhere
You will notice that we have a nice wooden shelf with a hanging rod in our hallway closet.
When we moved in, we decided not to do ANY wire shelving anywhere.
We had wire shelving in our previous home which was OK but wire shelving is not as functional as wood shelving.
We painted our wood shelving with Sherwin Williams Duration plain white paint which has been very "durable" in our closets – no pun intended!
My main idea for this entryway coat closet was to simply hang up guests coats.
Secondary to that, I love the utility and the location of this closet right by the front door so I also wanted to add a storage solution in here for some other things too.
I have cubbies at the bottom of another closet and thought that would be the perfect solution in my entryway closet as well!
Related: Entryway Shoe Storage
Coat Closet Organization
I found this high quality, nice looking wood cube organizer from WalMart!
Target has the best price & best looking fabric organization cubes.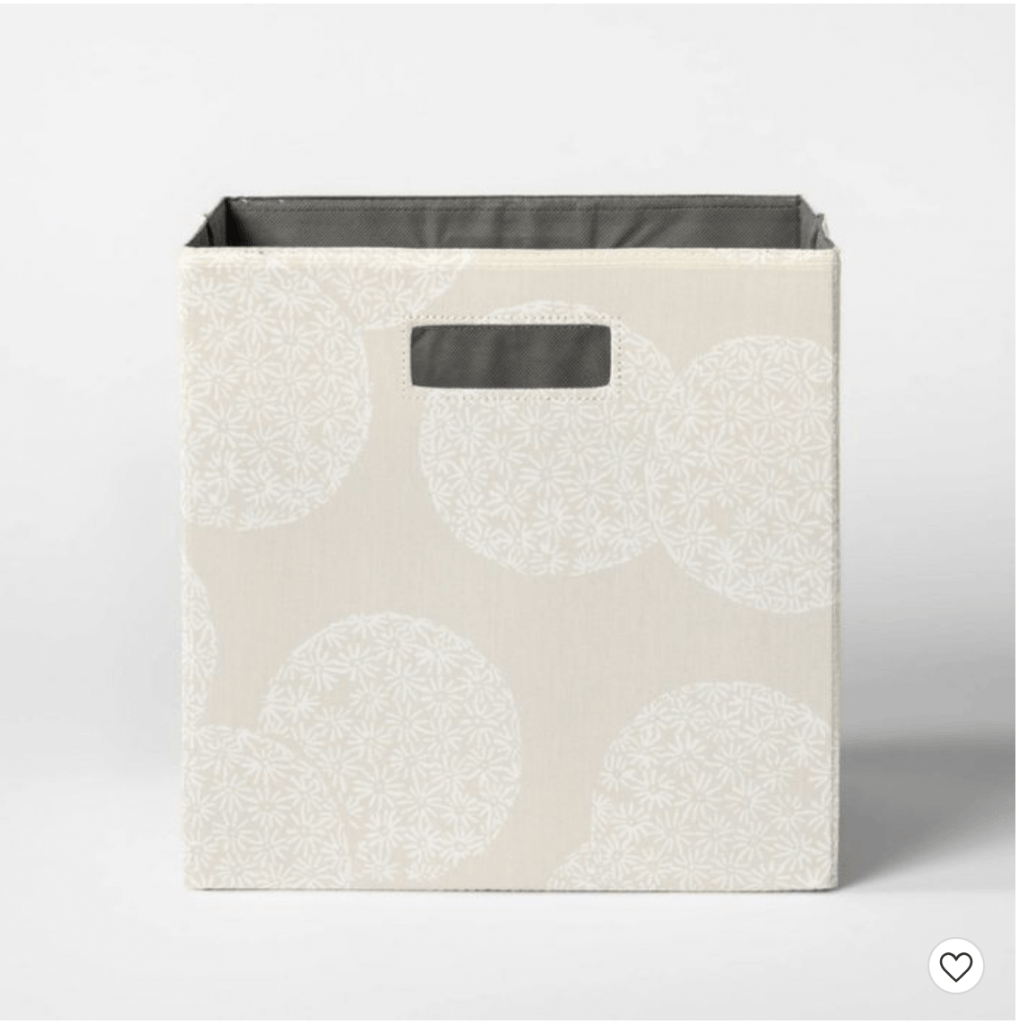 I used 2 fabric organization cubes that I already have and got 2 more for a total of 4.

In my coat closet cube organizer, I'm organizing some of my overflow everyday home décor items that I frequently swap out but you could store anything in these oversized cubes!!
They hold a ton of stuff.
I put some of the larger items on the wooden shelf at the top of the closet which is about 2 ft tall.
And even sat a few of the home decor items on top of the cube organizer.
Best part? This coat closet is organized and has plentyyy of rooms for our guests coats now!
Small Coat Closet Makeover Cost
Cube Organizer – $59
Fabric Cube Organizers – $10 x 4
Organized Closet Before And After
Coat Closet Organization Ideas
Here are 4 of my favorite coat closet organization ideas that are budget friendly and quick to accomplish!
Baskets to Organize Closet
First up, is this organized entryway closet right here is absolute goals!
What I am loving about this closet is the basket organization, the hooks, and probably my favorite is that shoe organizer at the bottom.
These cubby organizers are used a lot for toy storage but I love them for shoe storage in a hall closet!
Don't limit yourself to just using these for shoes, you could storage literally anything in these!
Here are some great coat closet basket & cubby organizers:

Coat Closet Hangers
Check out this brilliant hall closet idea to hang curtain rods or towel bars for closet hanging!
How amazing for scarves, hats and gloves, etc!
Hanging these would be a super easy DIY and maximize the storage space in a small entryway closet.
Coat Closet Hooks
Loving this simple & easy coat closet with hooks as hangers.
Not that it takes THAT long to hang a coat on a real hanger but this is super quick!
Loving this idea for guests and just think it is SO unique.
Shelves For Coat Closet
So this is actually a nursery closet.
We used this same Closetmaid tower system in our nursery closet and in a toddler closet as well.
I highly recommend this closet organizer for any closet.
But I also think it would be fantastic in a coat closet.
In fact, I may add this to our mudroom closet because I currently use a fabric organizer that hangs from the rod but it's not the greatest.
The tower is really easy to put together and add to a coat closet!
Popular Entryway Closet Questions
What is the Closet Next To The Front Door Called?
It's called a foyer closet, coat closet, hallway closet or entryway closet.
These terms are often used interchangeably.
What Do You Do With An Entryway Closet?
Here are some ideas of what to use an entryway closet for.
An entryway closet is a great place to store things like batteries, light bulbs, umbrellas, vacuums/mops, umbrellas, hats, scarfs and gloves.
In addition to this front foyer coat closet, we also have an entryway closet in our mudroom.
The bigger the closet, the more you will be able to fit!
Pin It For Later!
Loving my new Easy & Inexpensive Coat Closet Makeover!