My goal for this bedroom was to create a hotel style guest suite on a budget. I got a great deal on everything from the furniture to the décor!
furniture
This king bed is a mix of warm wood & neutral linen material. The bed is very high quality for a great price! A lot of people don't think to look for furniture and home décor at The Home Depot but they have a great selection!
The nighstands are a steal of a deal! A lot of nighstands will cost you $500! I love the clean lines and trendy style of these.
lighting
We have a ceiling fan light combo which is the main light source for this space. Many people like moving air when they sleep so I have ceiling fans in all the bedrooms in our home!I
I also added these cute lamps for a source of ambient lighting. I have lamps in my bedroom and use them every single day! I'm loving the trend of desk lamps on nightstands right now.
decor
This rug totally brings this space together. I like to decorate with a lot of neutrals but I really wanted to bring some color into this space. The rug is perfect. This is an amazing deal on an 8 x 10 rug!
I searched a few sites for a wall art set of 2. Everything I found was either too expensive or not what I was looking for. So I did what I always do and made my own wall art! This particular art set is from Etsy but I also have a page of Seasonal Printables that I made too! Here are my favorite matted frames.
Here is a video of how I DIY'd this art set of 2! How's that for budget bedroom decor?
Update: I created this set of 2 DIY wall print inspired by a similar set that costs $600! You can download it for free here!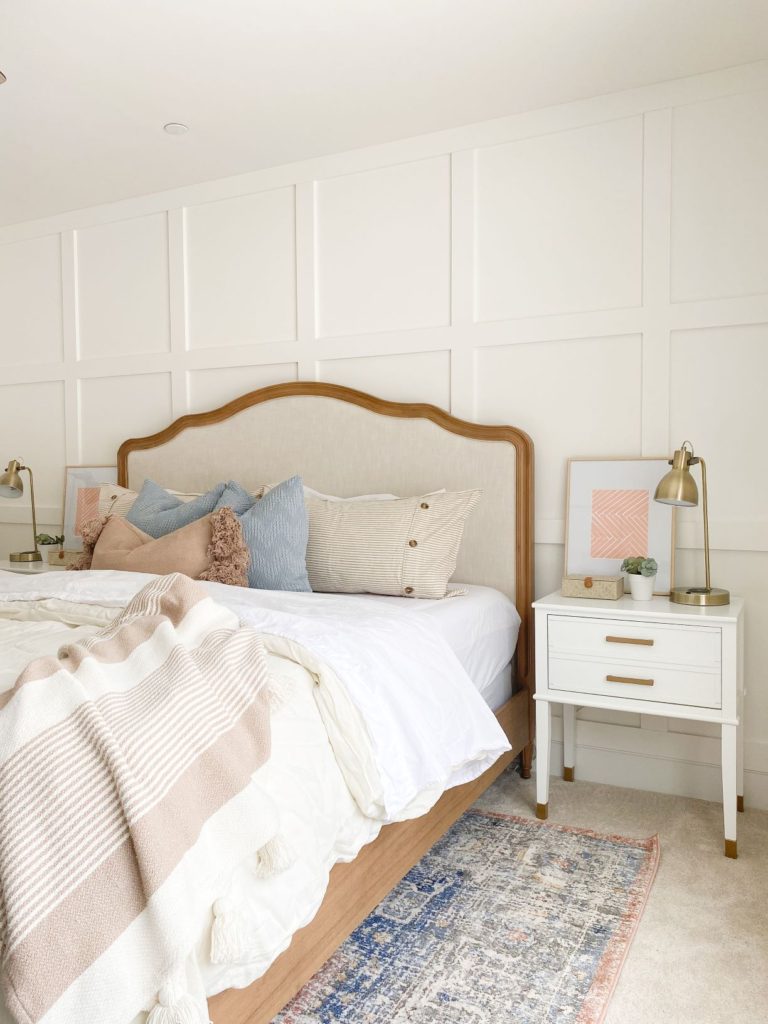 I love to incorporate greenery into my decorating! This olive tree is my absolute favorite. It's 7ft tall so it also adds height to the space. I also found these cute faux greens for the nightstands!
If you have a green thumb, try adding these vining plants that double as decoration and air purifiers too.
You can never go wrong with a hyacinth basket. This one is perfect to store those throw pillows when not in use!
bedding
I went with the Tencel bedding duvet cover and matching shams. I also love this down alternative duvet cover – so soft & cozy! You can never go wrong with white bedding!
Throw pillows are an easy way to add color & style to a bed! I found these euro pillows in a pretty green tone that went perfect in this space! I also am loving this large oversized lumbar pillow here!
Have you seen the board & batten wall we added to this space? I promise you won't want to miss it – click here.
1 | art set & matted frames 2 | bed 3 | lamps 4 | nighstands 5 | hyacinth basket 6 | lumbar pillow 7 | euro pillows 8 | rug 9 | olive tree
Stay Connected & Get All the Latest