Today I'm sharing everything you need to know about how to choose the best home office flooring.
To help you decide what the best flooring option is for your home office, I am sharing all the pros and cons of all flooring types.
Why Is It Important To Have A Dedicated Home Office?
The world had no idea how important a home office would be until the middle of March 2020 when every job that could went virtual!
Some were working from their basement and others from their dining room table.
My home office setup was not designed for full-time use.
I had no monitor, no mouse, and my office chair was terrible!!
It was not until I did a complete makeover on my office space that I realized how important it was to feel comfortable and organized with a proper home office setup.
Related: Dining Room Makeover
Home Office Makeover
In our home, my husband has always worked remotely so when we moved in, he took our home office space.
I have actually always preferred to use our master bedroom sitting area as my home office but we do have a 5th bedroom that I may convert into an office down the road.
Right now the 5th bedroom is a playroom for the kids!
This is a very embarrassing before photo showing the office space that I worked with for a year and a half through the pandemic.
I was back and forth with remote work, but once I realized hybrid work was here to stay, I knew it was time for a major home office makeover.
Even if you don't work remotely, maybe you use your office for personal use like paying bills, online research etc – I promise it will be so much more enjoyable with the right setup for your space!
I firmly believe that when you work in a home office space that you feel good about, it will increase productivity.
Shop My Home Office Makeover Sources
Disclosure: This post contains affiliate links. If you click through a link and make a purchase, it will earn me a small commission, at no additional cost to you! See our disclaimer for details.

Related: Master Bedroom Room Makeover
Best Home Office Flooring
There are lots of design aspects to consider when planning your home office space.
One of the most important considerations is flooring!
Below I'm going to walk through the pros and cons of each flooring option to help you select the best home office flooring for your office.
Hardwood Office Flooring
You can't go wrong with hardwood in your home office.
Hardwood is very durable and I love that an office chair rolls right over it without a problem.
My husband's first floor home office has hardwood actually.
As with many hardwood spaces, you will still end up adding a rug underneath the desk and chair.
The area rug over the hardwood flooring adds additional style and comfort to the space!
We purchased a low pile outdoor rug that works amazing in the office space.
The best part is the seamless transition from the foyer into the office.
Luxury Vinyl Plank (LVP) Office Flooring
LVP is so popular right now.
LVP is even more durable than hardwood and it's a great option for flooring for your entire home.
Similar to hardwood, it's one of the better options for use with an office chair.
If you decide to get a rug, I highly recommend something low pile so it's still compatible with your office chair.
Carpet Office Flooring
Since our home office is off our master bedroom, it's currently all carpet.
I definitely want to redo our upstairs someday to be all hardwood to match the rest of the house.
But for now, I have a low pile rug on top of the carpet and am able to use my office chair with the low pile carpet without any issues.
Tile Office Flooring
Another common flooring option is tile.
It really just depends on your preference and how the transition is into your office space.
With tile, you will probably want to add a rug over it so it's less slippery and to act as a partial sound barrier too.
Carpet One Flooring
I'm very excited to be sharing the 2022 Carpet One Trending 10 flooring options!
These are all the best home office flooring options including vinyl, hardwood, carpet, and tile.
The trending 10 includes 2 vinyl floors that are durable, strong, and beautiful for homes with busy lifestyles!
Trending in hardwoods are 3 beautiful natural wood products.
They have a Petproof option, a gorgeous wood variation style, and a vintage charm style.
I'm loving the 4 carpet options that they have and how they bring warmth and comfort plus amazing patterns, colors, and styles.
And last but not least, a rich and elegant tile option with natural beauty!
Home Office Design Board
A design board is an essential part of the project design process.
I always put the products I plan to purchase into a design board before purchasing!
I'm featuring two of the trending 10 flooring samples in my real-life flat lay!
This light and bright flooring option is trending and popular.
One benefit of a lighter flooring color is that it will make your space feel even bigger than it actually is.
The vinyl plank flooring will give your floors the hardwood look without the sticker shock.
These floors are also much more durable and stain-resistant!
This flooring option also has 4 other color options as well.
Their vinyl floors come with a titanium series warranty for the life of the floor which pretty much ensures that the floors will last a lifetime!
This loop carpet is one of my absolute favorites for a home office.
It has a very classic style that has a soft and cozy feel.
This carpet is designed for high traffic areas such as underneath an office chair or a space that is used on a daily basis.
It's waterproof and pet friendly.
It comes in a total of 12 color options.
Their carpet floors come with a platinum series warranty which in most categories will last you up to 20 years!!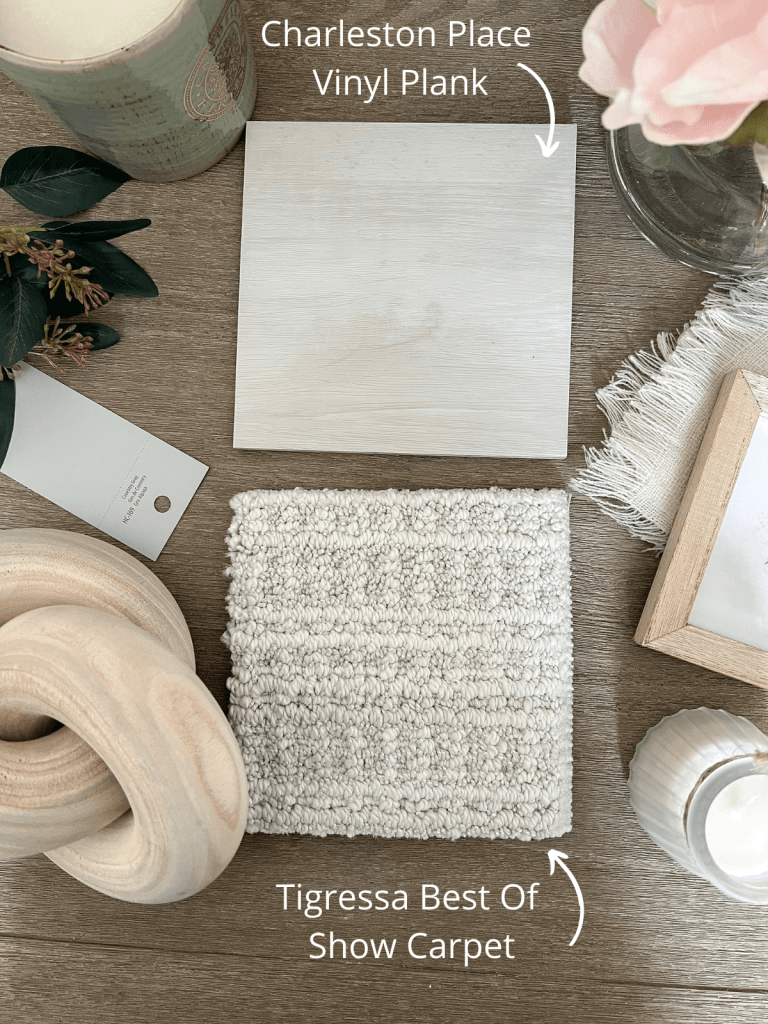 Carpet One's "Beautiful Guarantee"
Both of these flooring options comes with Carpet One's "beautiful guarantee" which is a one-of-a-kind bonus that ensures you'll love your floor or Carpet One will replace it for free!
Home Office Decor Ideas
Shop My Home Office Mood Board
All sources the other sources from my home office mood board are linked below so you can upgrade your own home office too!

Home office mood board paint color: Benjamin Moore Coventry Gray
Check out my live home office mood board video.
Related: Best Faux Olive Trees
FAQ About HOme Office Flooring
What is the best flooring for a home office?
Hardwood or Luxury Vinyl Plank (LVP) are my favorite home flooring choices.
I like a cohesive flooring flow throughout the home so I would carry what you are using in the other living areas into the home office.
My husband has hardwood in his office and I have carpet in mine.
We both have a low pile area rug underneath our office chairs.
Best flooring for office chairs?
The best flooring to go under an office chair with wheels is hardwood or Luxury Vinyl Plank (LVP).
Your office chair will be able to move around the office with ease.
If you want to, you can also add a low pile rug.
Your office chair with wheels will still be functional on top of a low pile rug.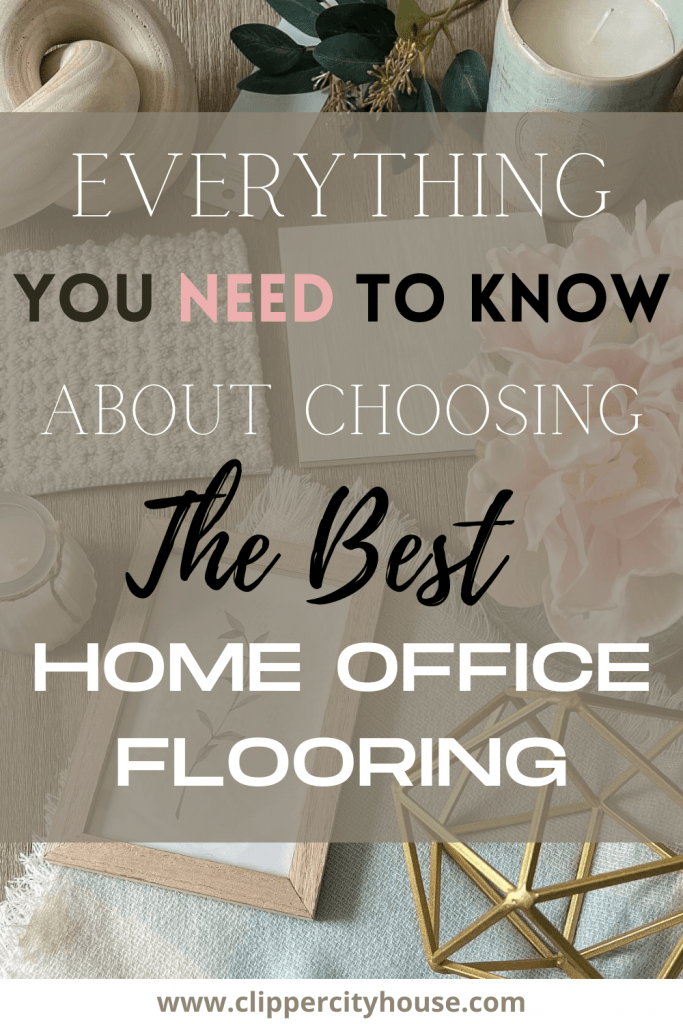 I hope these details about the best home office flooring inspire you to create the home office of your dreams!