Today I have rounded up all of my favorite images of mudrooms to help inspire you if you are planning on adding a mudroom to your home!
A mudroom can be in an entryway, part of a laundry room, in a closet, in a garage or just about any L-shaped spot in your home where you can squeeze some mudroom cubbies.
Mudrooms also range in price. You can find lots of great mudroom ideas on a budget or you can go all custom.
Either way, a Mudroom will help keep your home organized by having a place to store things that you use on a day to day basis.
Mudroom Ideas
Check out this video of Mudroom ideas if you are planning on adding a Mudroom to your home! Scroll down to learn more about your favorite!
Related: Home Office Flooring
Adding a mudroom
My husband and I added a Mudroom to our home! We probably would have never even thought of it if our architect had not put it on the drawing. See original Mudroom plans below.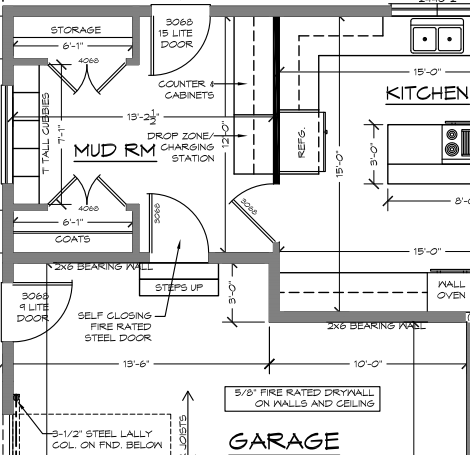 We made lots of design adjustments to the Mudroom space and ultimately ended up with the perfect DIY Mudroom for our home!
You can read all about our DIY Mudroom and grab our Mudroom plans free!
Related: Mudroom Rugs
Images of Mudrooms
Checkout my friend Julie's mudroom!
She has a beautiful entryway where she added this gorgeous Mudroom board and batten wall. My favorite part is her DIY sponge paint! Loving her entryway for Mudroom ideas on a budget!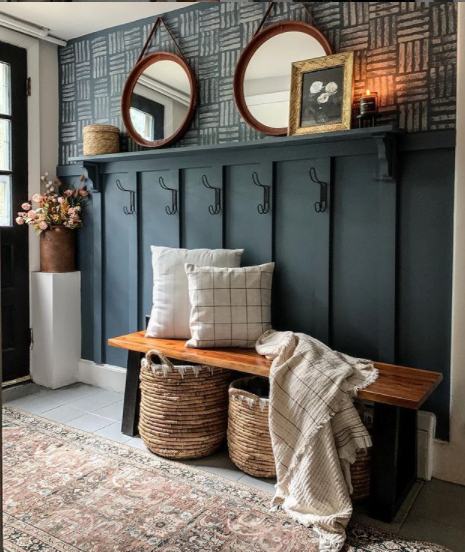 Loving this gorgeous laundry room / Mudroom combo by Jordan! Here's a view of the Mudroom side where she has tons of storage, cubbies, and even a built in dog crate! From the paint color to the tile, her space is one of my favorite ideas for Mudroom.
I love an all white Mudroom, don't you? This one by JS Home Design is stunning! The added bench cushion is perfect! This entryway has a ton of storage!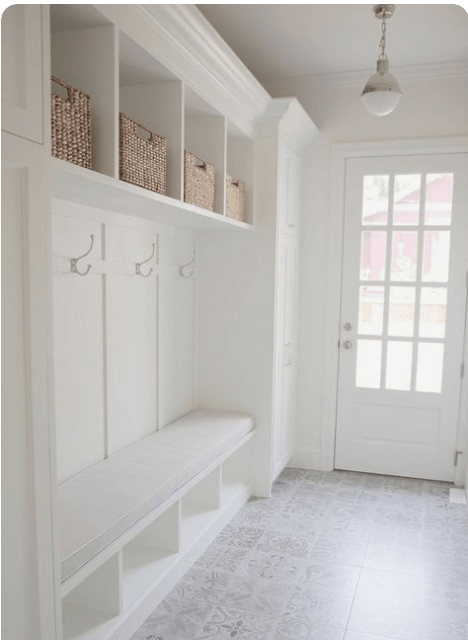 Caitlin's Mudroom is so unique and a total scroll stopper! The blue paint is the perfect color if you are looking for Mudroom paint ideas! So much storage and details to love here!
Related: Coffered Ceiling Ideas
Looking for a full tutorial on how to build Mudroom lockers? Look no further. Plank and Pillow has a tutorial for you! I love the vertical shiplap Mudroom wall that they added. Everything from the lighting, to the hardware to the bench seat is perfect.
Hide all the clutter with this Mudroom design by The Lily Pad Cottage. I'm pretty sure we also have the same tile 🙂
One of my all time favorite Mudroom inspiration photos. This Mudroom was one that I saved when looking at ideas for a Mudroom. I love the floor to ceiling cubbie height and stained l shaped entry bench!
Another stunner in the best Mudroom category. Beautiful Mudroom paint idea and tile! This is one of the only Mudrooms I have seen with wainscoting moulding – how pretty!!
And last but definitely not least, someone who I have followed for years even before having my own blog. Erin has a gorgeous home in Dallas, TX and has her own home decor line at Wal Mart! GOALS! Her Mudroom has tons of amazing Mudroom features!
Shop My Favorite Mudroom Baskets

I hope all these Mudroom ideas will give you tons of inspiration for adding a Mudroom!